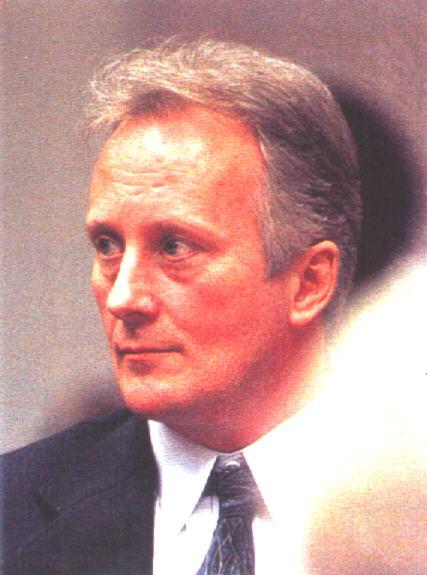 Phillip Tomlin sentenced to death at age 20, was on Alabama's death row until 2004 when he was sentenced to life without parole. Tomlin has had three trial judgments overturned due to misconduct. He has been the subject of repeated prosecutorial and judicial misconduct, having been prosecuted by the same prosecutor at every trial.
Tomlin resentenced to
life without parole

Circuit Judge Herman Thomas fulfills Supreme Court order to change death sentence for man who murdered two teens
Tuesday, May 11, 2004
By GARY McELROY
Staff Reporter

In a way, it was a routine house-cleaning matter Monday in Mobile County Circuit Court.

Last October, the Alabama Supreme Court ordered Circuit Judge Herman Thomas to sentence Phillip Wayne Tomlin to life in prison without the possibility of parole. On Monday morning, with little fanfare, that's what Thomas did.

The Supreme Court's order was to right what it said was a wrong made by Thomas in a 1999 decision when he condemned Tomlin to execution for the 1977 murders of teenagers Richard Brune and Cheryl Moore. Brune was from Mobile; Moore, from Chickasaw.

Many in Mobile would know their names and that of Tomlin, their stories and the legal sagas that appeared and reappeared in Mobile courtrooms for nearly 30 years.

For the fourth time, following the 1999 trial, a jury found Tomlin guilty of capital murder in the deaths of Brune, 19, and Moore, 15. They were shot to death on the Theodore-Dawes exit ramp to Interstate 10. Moore was Brune's girlfriend. Prosecutors say she was killed because she was a witness.

Three other juries over the years -- the trials were overturned by higher courts for various reasons -- voted to send Tomlin to the execution chamber.

The 1999 12-person jury opted instead, by a unanimous vote, for imprisonment for the rest of his life. Thomas' decision, within the power of judges in Alabama, disregarded the jury's recommendation, ordering Tomlin's execution.

Thomas pointed out that a co-de fendant tried separately in the case had been sent to death row. He later died there of a heart attack. Thomas asked how a collaborator could be condemned and not Tomlin, whom he described as the hirer, the planner, the cold avenger and the co-executioner and described it as an aberration, a freak that cannot be allowed.

But the state's high court said Thomas should not have considered co-defendant John Ronald Daniels' death sentence in condemning Tomlin to the same fate, and that the jury's unanimous recommendation had to be afforded great weight.

On Monday, Thomas did what he was ordered.

When sentenced, the 47-year-old white-haired prisoner -- he was 20 when first condemned to die -- did not stand up or look at Thomas, instead busying himself with paperwork at the defense table.

Afterward, he donned a pair of glasses, smiled briefly at his family and was led away.

Tomlin was on death row this morning, his lawyer, Bernard Harcourt said Monday. But his life will soon change dramatically when he enters the general inmate population at Holman Prison near Atmore. For the first time in his 27 years there, he will not be con fined to a small cell, alone, for 23 out of 24 hours a day.

This was not welcome news to Herbert Moore, Cheryl Moore's father.

Outside court, he seemed momentarily taken aback when asked how old his daughter would be had she not been killed with a pistol and shotgun.

Forty-two in August, Moore said, shaking his head, appearing astonished at the math.

"I don't know what the judges were thinking, Moore said of the high court's decision. The way it appears, the Supreme Court is doing that to not have the death penalty.

Moore said he and Jack Tomlin -- Phillip Tomlin's father -- were once friends, but that he does not care to speak to him or to acknowledge him. He said he never did nor does he have ill feelings toward Phillip Tomlin's mother.

The story of the murders began in 1975, according to court records, when Brune and Tomlin's younger brother, David Tomlin, 18, were horsing around in a Tomlinfamily furniture store in Prichard and David Tomlin died of a shotgun blast. Investigators labeled it an accident, but, according to court records, Jack Tomlin was convinced that the shooting was intentional.

It was Jack Tomlin's bitter and irrational desire for revenge, prosecutor Don Valeska said during Phillip Tomlin's last trial, that led to the subsequent deaths.

Valeska told jurors then that following the accident that killed his son, Jack Tomlin wrote a letter to law enforcement agencies vowing that if Brune was not made to pay, he would take care of it himself.

Jack Tomlin was never charged with any crime. On Monday, he was in court, along with other family members, to observe his son's resentencing, sitting silently throughout.
_____________________________________________________